This is a tough business. And if you're not careful, the competition will eat you for breakfast. That's why Shark Bite Games has invented a breakthrough in game technology. We have created a game format superior to cartridges, CD-ROMs, and even DVD-ROMs. Introducing the Binary Reheatable Edible Auxiliary Disk, or B.R.E.A.D. for short. Place one of these toasty tiles into your B.R.E.A.D. drive and get ready for some hot action! There are already a number of games available that take full advantage of this new technology.* They include Bagel Morph, Wafflestein 3D, B.U.N. Runner, Turbo Sub Sandwich, NBA Strawberry Jam, and Trevor McFur in the Croissant Galaxy.
The games, manufactured by an energetic group of bakers in New Hampshire, promise to be like nothing you've seen before. They can offer things no other game can. For example, crust. The crust alone contains ten megabytes of storage, an anti-piracy device, and seven essential vitamins and minerals.
However, I must warn you about this disk drive. The lasers that read B.R.E.A.D. games are very powerful and may overheat. If this happens, immediately remove the game and apply a cool, spreadable substance such as butter or jelly. Then, just serve and enjoy!
These B.R.E.A.D. drives are guaranteed to sell out quickly. Don't get burned, order today! Also pick up the latest batch of games, available individually or in a loaf.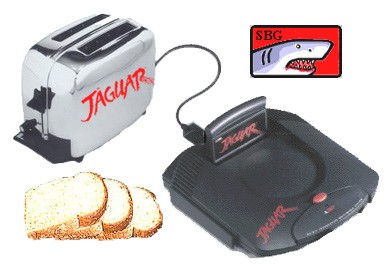 *Remember, the "N" in technology stands for nology.